Cat Tail Teaser
Your item has been added!
x
Please sign in
Don't have an account? Create one now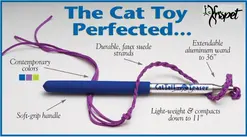 CatTail Teaser The CatTail Teaser wand is an aluminum extendable cat toy that cats simply can't resist. The hand-braided, faux suede teaser cord is very durable, unlike wand toys using feathers or ribbon. Cats can chase it, catch it and chew it - but ...